What Is Nitrous Sedation?
Nitrous oxide, also called laughing gas, is a mild sedative that promotes a stress-free experience. Patients inhale nitrous oxide through a face mask. The doctor will control the amount of nitrous oxide you receive to ensure your comfort and safety. You will begin to relax and not recognize pain so the doctors can perform treatments while you remain comfortable. Nitrous oxide is safe for patients of all ages, and its effects subside immediately so you can enjoy activities as usual after you leave the dental office.
Is Nitrous Oxide Safe for My Child?
Yes! Nitrous oxide is not called laughing gas for nothing, and it can help make your child's visit safe and comfortable for them. Our experienced dentists will carefully control the flow of the gas and ensure that your child is safe throughout their procedure. Many children feel anxious about going to the dentist, and we love being able to help them have an enjoyable experience at our office.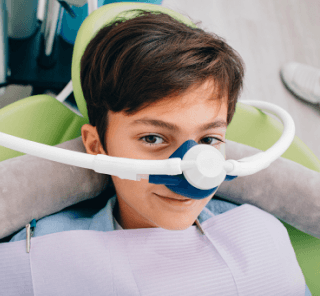 Does Nitrous Oxide Have Side Effects?
Side effects for nitrous oxide are very rare but include nausea and headaches. Our team keeps a very close eye on you or your child, and we regularly ask questions to make sure that everything is going smoothly. If these symptoms are ever experienced, we can adjust the flow of the gas and cut it off if necessary.
What Do I Do After the Procedure?
Once you or your child's treatment is complete, the gas will be slowly cut off and replaced with normal air. The effects of the nitrous oxide will wear off in just a few minutes, and that is it!
We offer nitrous sedation for our patients' comfort in the following offices:
Disclaimer: Conscious nitrous sedation is not recommended for all patients. Eligibility for nitrous sedation is evaluated during a patient's visit by the dentist and administered at the dentist's discretion.