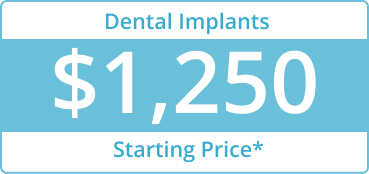 We are happy to offer dental implants to patients looking to restore gaps in their smile. This restorative treatment is versatile and long-lasting, able to help you get back a full smile that can last a lifetime. We encourage you to reach out to us to schedule your in-person consultation with our dentists to learn more about dental implants at Familia Dental.
Dental implants are a tooth prosthetic that can be used to replace one or more missing teeth for long-term health care. A dental implant is composed of two main parts: an implant post and an implant restoration.


An implant post is a small screw that is inserted into the jawbone to replace the missing tooth root. Once the titanium post is in place, it can stimulate the jawbone to help prevent bone loss. The implant restoration is the visible part of a dental implant that is placed on top of the implant post. The restoration can be a crown, a bridge or a denture, depending on the needs of your smile. Once the implant post has fully integrated in your mouth, the restoration will be placed on top to fill out your smile and restore your oral functions.
We highly encourage you to replace any missing teeth as quickly as possible, as missing teeth can lead to further oral health issues, such as misalignment and bone loss. Dental implants can restore not only your appearance but also your oral health.
Call us today to schedule your consultation to determine whether a dental implant is right for your smile!
Frequently Asked Questions
How do dental implants work with dentures?

To get a secure denture that does not become loose and "float" in your mouth, we can place multiple implants — often around four to six per denture — to anchor the denture. The security from implants secured to the jawbone result in dentures that can feel and function just like natural teeth.

How do dental implants help prevent bone loss?

Normally, the root of a tooth connects with the jawbone and sends signals for your body to provide nutrients to the area. When you lose a tooth, you also lose those signals, resulting in jawbone deterioration in that area. This can often cause your facial structure to collapse or distort. A dental implant replaces not only the visible part of your missing tooth but also the root that interacts with the jawbone. This means that the bone will still receive the nutrients it needs to remain active and healthy.

How much will this treatment cost?

The out-of-pocket cost for this treatment will vary depending on your insurance provider. Medicaid often does not cover the treatment, but if you have an insurance provider, we encourage you to reach out to them to see how much they can cover. We also occasionally offer patient specials that may help with the treatment costs.

Do I need a Cone-beam scan to get an implant?

It is our policy at Familia Dental to refer patients out to get a CBCT scan for their implant placement. A CBCT scan, or cone beam scan, refers to digital imaging of your teeth and jaws. This replacement to an X-ray gives our dentists an accurate image of your mouth so we can plan the precise placement of the dental implant for a safer, more effective treatment for your smile.